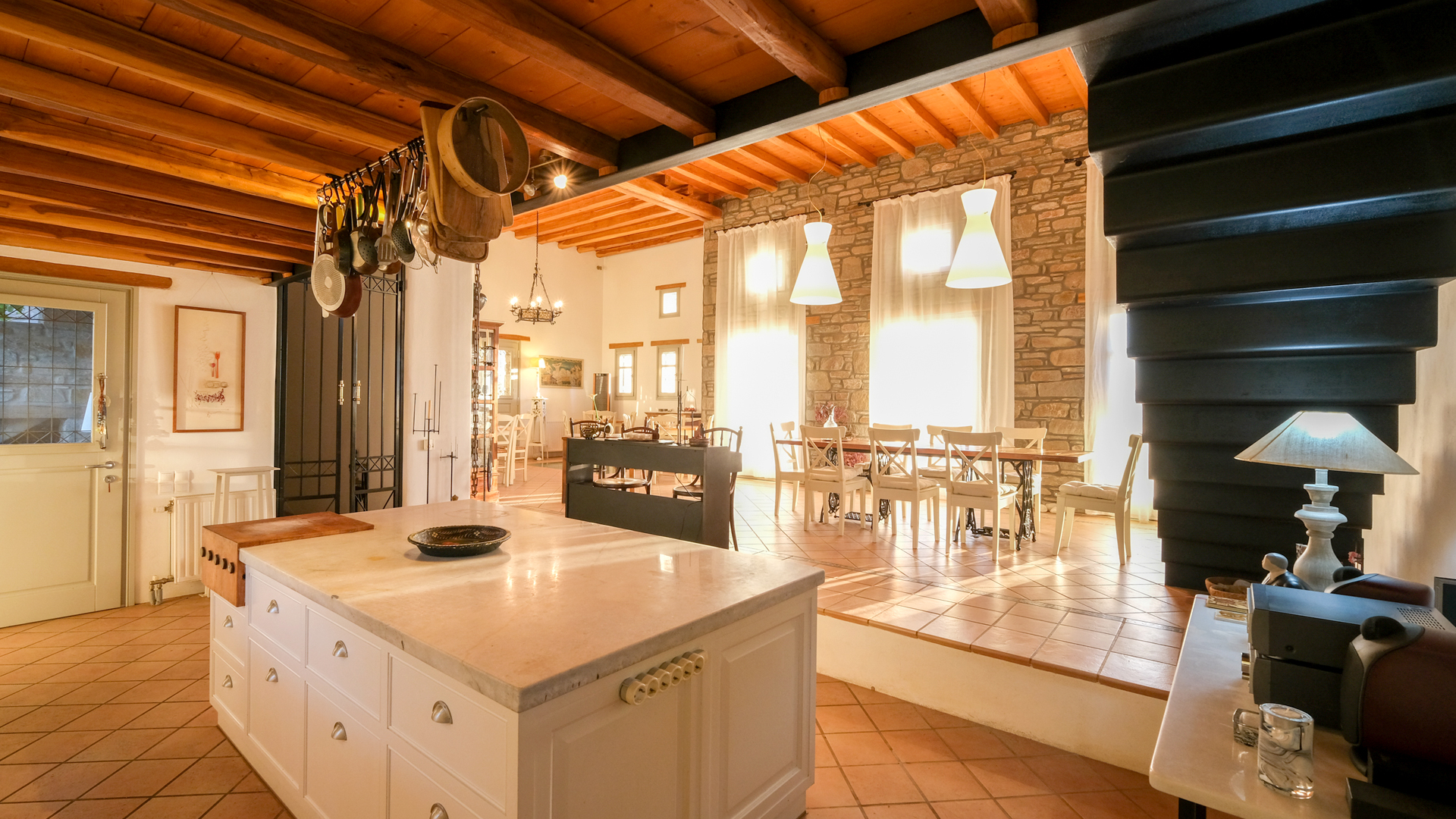 Three Villas
in Kampos Pounta

A unique property in the Kampos Pounta area of Paros, featuring three single, stone-built villas with a combined total area of 597.25 m² of primary living spaces and 22.50 m² of semi-outdoor spaces, situated on a plot of land measuring 4010 m².
Price: 2.000.000 euros.
This is an exceptional property located just 500 meters from the sea and comprising three residences of distinct aesthetic appeal.
Residence A is a tri-level structure, featuring a basement, ground floor, and first floor. The ground floor and basement contain the four bedrooms of the residence, along with their attached bathrooms and terraces. On the first floor, there is a functional kitchen and a bright living room, both of which offer comfortable verandas with panoramic views of the surrounding area.
Natural light abounds throughout the building, even in the basement, where the rooms open onto spacious interior courtyards that can be transformed into pleasant gardens.
Residence B is a simple yet functional ground floor studio with a veranda, which can serve as a guest house or even as a permanent residence for a single occupant.
Residence C comprises both ground floor and basement levels. The ground floor houses a spacious kitchen with an "island" work space in the center, as well as a high-ceilinged living-dining room that is perfect for gatherings with loved ones and enjoyable evenings of cooking and conversation. From the living room, a cast iron staircase-sculpture leads to the mezzanine-office, which offers a dedicated space for study and work. In the basement, there are two bedrooms with attached bathrooms, a linen room, a wardrobe, and a wonderful cellar.
The three residences together make up a villa with a unique aesthetic, built with excellent quality materials and rich spaces that can be used for private or touristic purposes. The surrounding area features a vineyard that has already been planted and can be complemented by an idyllic Mediterranean garden to enhance the building's charm and create a luxurious haven of relaxation and tranquility.
The property is located less than 8 km from the town of Parikia.